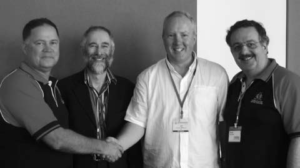 Grey Mahoney congratulates John Pead, Project Leader of the 2009 Weary Dunlop Award Winner 'Transition Mental Health & Family Collaborative (Townsville)'. 
Left-Right Dr Greg Mahoney (AMMA President), Chris Clarke (DVA Contract Manager), Assoc Prof John Pead (Project Leader), Dr Nader Abou-seif (AMMA Vice President), Absent: Dr Darryl Wade (Project Manager)
18th Annual AMMA/CCMT Joint Conference –
Gold Coast, Queensland,
30 October – 1 November 2009
For 2009, the annual AMMA Conference was joined by the Controversies in Civilian and Military Trauma Group (CCMT). The conference was held at the Gold Coast Convention and Exhibition Centre (GCCEC) on the Gold Coast in Queensland from the 30 October to the 1 November. It was a two and half day conference which included plenary and breakout sessions. A Workshop/ Site Visit to the RFDS Base at Brisbane Airport was held on Thursday 29 October as part of the CCMT program.
The conference attracted 275 delegates, slightly down from previous meetings; this was largely due to the international natural disasters occurring in the month leading up to the conference and the consequent
deployment of personnel overseas for relief efforts.
The Conference was opened by Major General Paul Alexander, Commander Joint Health and Surgeon
General Australian Defence Force.
The technical program included an opening keynote address by Dr Fiona Wood which was well received by delegates, with 92% of respondents to the post conference survey saying she was excellent. Some delegate comments appear below:
"Fantastic speaker who provided so much information and enthusiasm which was a great way to start the
conference."

"A quality presentation from an eminent person"
"The presentation by Dr Woods was an excellent start tothe conference and it set the scene for the following days.
She is truly an inspiration and we can all learn from herexperiences."
The remainder of the program consisted of concurrent sessions and symposia on a wide range of topics including, Mental Health, Veterans Heath, Ability and Capability and Army Medical Training. The program consisted of three streams, 2 weighted towards AMMA and the third to CCMT.
The CCMT Workshop attracted 18 delegates who were shown through the various assets at the RFDS base in Brisbane. The static display of assets included QAS Vehicles and Stretchers, ASLAV Ambulance, Military
Ambulance Vehicles, Queensland Fire Services Rescue Vehicles, a Simulator from C17 (RAAF), a Stryker Rescue
Stretcher and an RFDS Fixed wing aircraft.
An enjoyable social program and networking opportunities enhanced the event with the Welcome Reception being held on Friday 30 October in the Trade Exhibition Area. This function was a good opportunity for delegates to catch up with colleagues and to visit the exhibitors' booths. Drinks and canapés were provided.
The conference dinner was held on Saturday 31 October, at the GCCEC overlooking the Gold Coast Hinterland.
Delegates enjoyed a three course meal with beverages. The entertainment for the evening was guest speaker
Michael Groom who was very well received by the guests.
"Michael Groom was fantastic. I was at a table of psychologists and he gave them much material for discussion afterwards. We enjoyed his talk very much and the photo illustrations enhanced it enormously. Thanks for organising him!"
"What an inspiration Michael Groom is but I am still left wondering WHY??"
The Weary Dunlop Award was won by Transition Mental Health & Family Collaborative (Townsville) for their
paper reporting on behalf of teams seeking to improve for all defence force members at risk of discharge
for medical reasons,their mental health and family practices throughout 2009..
Once again this conference proved to be a huge success, with a large number of high-quality papers presented
in an environment that supported the open exchange of views and the development and re-engagement of
professional connections among the delegates.
As always, the Association is grateful to its sponsors for their generous support, allowing registration fees to be
kept down to a reasonable level.
This year's conference will be held together with the Joint Health Command at the National Convention Centre in
Canberra from the 29 – 31 October 2010, and no doubt will be every bit as good as the 2009 conference.
Nader Abou-seif
Convenor