Introduction
Eleven years ago, the Australian Defence Force (ADF) held the third Environmental and Occupational Health (EOH) Conference. Much has changed within the Pacific region and the world since that time. In recent years, ADF EOH personnel have supported numerous missions across the spectrum of operations. These missions included humanitarian assistance such as Exercise Pacific Partnership, disaster relief during Operation Philippines Assist, conflict support in Afghanistan and Iraq; and post conflict support in Timor-Leste and the Solomon Islands. Individuals who deployed in support of each of these missions, and more, gathered at Gallipoli Barracks outside of Brisbane from March 4-6, 2015 to share their first hand experiences to inform policy development and build meaningful partnerships during the 4th ADF EOH Conference.
Presenters and participants represented the various ADF Services, interagency partners such as the Department of Foreign Affairs and Trade and the Department of Veterans Affairs, academia, as well as our international partners from the New Zealand, United Kingdom and the United States Defence Forces. The conference opened with a brief presentation of what the future might hold for the EOH profession within the Pacific Region and an overview of strategic efforts underway by the ADF Joint Health Command (JHC), the conference co-sponsor along with the Australian Army 1st Preventive Medicine Company. Six sessions followed over three days ranging in topics from EOH on exercise and deployment to health surveillance informing health intelligence. The remaining sections of this commentary will outline the anticipated future challenges for the EOH profession, strategic initiatives underway within JHC to support EOH, key highlights from each of the conference sessions, and concluding thoughts for the Defence EOH community to ponder.
Future EOH Challenges
Countries within the Asia-Pacific region have and continue to remain vulnerable to climate threats such as cyclones and tsunamis, environmental degradation, political instability, and terrorist threats. They also suffer from poverty, population displacement, infectious diseases, decreasing access to potable water sources and inadequate sanitation, which all lead to higher rates of morbidity and mortality.1 Many countries within the region are also experiencing high rates of population growth, increased life expectancy, new technologies which have improved survivability of historically fatal illnesses and disease, as well as overall increases in per capita income. While these issues could be interpreted as successes and opportunities, they place additional pressures on many fragile health systems within the Pacific region.2
Furthermore, higher total fertility rates place increased demand on maternal, newborn, and child health services in the near term while generating secondary long term effects such as increased healthcare needs for a larger and older population.3 Vector borne diseases continue to generate significant costs to both health and national economies as seen in the Solomon Islands, which has one of the highest global incidence rates of malaria outside of Africa.4 Non-communicable diseases such as cardiovascular disease, cancer, and diabetes are creating a double burden of chronic and infectious diseases for developing countries in our region. Men in Fiji, Solomon Islands, Vanuatu, Samoa, and Tonga die prematurely (less than age 60) from non-communicable diseases at rates higher than the average of all low-income countries globally.3 Fiji in particular has a rate more than double the global average, with the third highest prevalence rate of diabetes in the world.5 Placing these macro issues into a micro level financial context, a single patient requiring insulin in Vanuatu consumes the equivalent drug allocation of 76.4 citizens.3 These figures are clearly not sustainable for these countries and our region.
So how do these current and anticipated regional health challenges relate to the EOH profession? In many countries within the Pacific region, the military plays a key role in both disaster response as well as providing direct patient care to both military and civilian populations. These broader issues will clearly put strains on a limited host nation, and specifically military disaster response and public health capacity, generating an increased reliance, and in some cases dependency, upon international development and military partners like us. So therein lies an opportunity for the EOH community to not only sustain ongoing Force Health Protection efforts to ensure the viability of military personnel deployed in the region, but potentially build partner nation EOH military capacity to address these issues
now instead of allowing this dependency to endure.
The United States Department of Defense has leveraged health, to include environmental and public health, to build partnerships with military and civilian organisations throughout the world. Their health engagement activities include deploying US Navy hospital ships with partner nation EOH military personnel from the ADF, New Zealand Defence Force (NZDF), and United Kingdom Ministry of Defence to provide humanitarian assistance and public health training in the Pacific region. They also have forward-deployed research laboratories in Thailand and Myanmar that work with both the military and civilian sector to support ongoing research leading to advances in force health protection measures against infectious diseases, neglected tropical diseases and HIV/AIDS. These laboratories collaborate with organisations such as the ADF Army Malaria Institute and support the World Health Organization Global Outbreak Alert and Response Network collaboration that provides a global good to both military and civilian organisations within our region.
It is important to consider how these formalised military-to-military partnerships between developed nations can support the ongoing challenges discussed previously within the Pacific region. For example, when the ADF offers EOH support during disaster responses and humanitarian assistance missions, how does it align with existing programs managed by the host nation Ministry of Health to lessen the disease burden? What ways can the ADF partner in EOH with nations in the region prone to the aforementioned challenges and how can it serve as a pillar in supporting health, security and economic prosperity in the Pacific Region? Solutions to these broad questions will take time to develop.
ADF JHC Initiatives
At the strategic level within the ADF, JHC continues to work with the Groups and Services and NZDF partners through the Defence Preventive Medicine Working Group to further develop Health Manual Volume 20 – Preventive Medicine and Health Manual Volume 21 – Pest Control. The manuals provide direction to Preventive Medicine and Environmental Health personnel involved with the general principles of preventive medicine in support of the requirements outlined in the Australian Defence Force Publication 1.2.2. – Force Health Protection. Both health manuals cover subjects of environmental health, occupational hygiene and control of disease vectors and other pests in order to prevent casualties and protect the ADF members' health. These programs are managed by EOH personnel in the ADF and have an operational focus born out of the requirement to prepare for war and adapt for peace. The DPMWG was chartered in 2011 to facilitate the subject matter expert review and publication of these manuals. It is acknowledged the ongoing review process has been lengthy. JHC recognises these manuals provide much needed guidance to the Services, but that they are not published in full. The JHC EOH Staff continue to work a modified approval process to expedite the publication of the remaining parts in each of these manuals. The ADF Service Director Generals for Health agreed with the proposed process and are seeking formal approval with the Surgeon General ADF.
Additionally, JHC has been engaged with the Groups and Services in addressing the ongoing Occupational Medicine and Occupational Hygiene (OMOH) capability shortfall within the ADF. Personnel from both the EOH and the Work Health and Safety communities have supported initiatives and studies on this topic since the F111 Board of Inquiry was published in 2001. Unfortunately, ongoing OMOH personnel shortfalls continue to prevent the ADF from achieving an effective OMOH practitioner capability and proactive level of maturity. This vulnerability and liability was exposed during the investigation undertaken by Comcare in 2009 which resulted in the Hazardous Chemical Enforceable Undertaking in 2010. Bearing this in mind, as well as other recent initiatives that failed to deliver a solution to the capability shortfall, JHC is developing a Defence Work Health and Safety Committee (DWHSC) concept paper outlining options to support ADF OMOH requirements.
The goal is to submit the concept paper to the DWHSC co-chaired by the Vice Chief of Defence Force and the Deputy Secretary Defence People Group. With their endorsement, an ADF OMOH Working Group would initiate planning efforts to deliver a mature capability level for uniformed personnel. Joint Health Command acknowledges big changes take time and remains committed to assisting ADF EOH professionals in achieving their mission while supporting Commanders in meeting their due diligence obligations under the Work Health and Safety Act. These combined initiatives will support some of the requirements identified during the ADF EOH Conference.
Session Highlights
Over the three-day ADF EOH Conference, 35 presentations were conducted with the presenters participating in four panel discussions. Below are the key points raised during these discussions. These points are the views of those present and not officially endorsed by JHC.
INSERT TABLE x4
In addition to the conference presentations, a formal dinner and awards ceremony was held where three Defence members were recognised for their distinguished service. CPL Ken Breen, Preventive Medicine Technician, 1st Preventive Medicine Company, received the EOH Deployment Award for expertly providing preventive medicine support on six different exercises and operations within Australia as well as Papua New Guinea over the previous 12 months. FLTLT Sean Walden, OIC Environmental Health Royal Malaysia Air Force Butterworth Health Clinic, was awarded the EOH Garrison Award for providing superior EOH support to personnel assigned to the base as well as the numerous units rotating through the region on recurring exercises. LTCOL Paul Byleveld, Specialist Reserve, 3 Health Support Battalion, received the ADF EOH Lifetime Achievement Award for his expertise in water and sanitation while serving the ADF, NSW Health Department, and other international relief organisations over the past 25 years.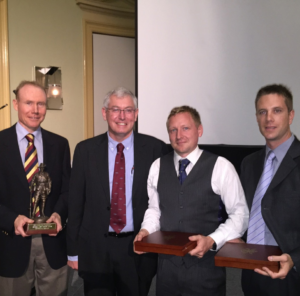 Image 1 (L to R: LTCOL Byleveld, COL Brennan (Dinner Guest Speaker), CPL Breen, FLTLT Walden)
Conclusion
Despite these individual and other organisational successes, some of the issues highlighted during the panel discussions were identified eleven years ago when the community of interest met at their last conference. A few new issues have emerged since this time. What was reassuring to the audience assembled is the motivation to find common solutions to common problems, not only within the ADF, but amongst the broader international
community. Senior leaders recognise the need to properly resource the profession in order to meet their mission mandates. Individuals within the EOH trade recognise the need to define their competencies and improve efficiencies in how they provide support both in the garrison and deployed environments. All participants see potential in formalising EOH relationships with partner nation Defence forces via established Memorandums of Understanding,especially in the area of health surveillance and laboratory analysis that informs health intelligence.
Through this combination of near term efficiencies, mid-term resourcing, and long-term partnerships, the community remains confident progress will be made on many of the key issues identified in 2015 and looks forward to sharing these successes during the 5th ADF EOH Conference to be held in 2017.